In 2016 I managed all marketing activity for the Food & Drink Festival. A key task was to write and redesign the event brochure, tying it in with Arts Festival branding to encourage visitors to make the association between the two events. To achieve this I looked back at the Arts Festival banners and brochures I had designed earlier in the year and borrowed various features, including fonts and diagonal image frames. On the back of the brochure I added the Arts Festival logo and further information about both events.

Last year I played a key role in the launch of the Salisbury Food & Drink Festival Taste Trail. As well as managing the marketing for the event, I worked with colleagues to rally up support from local restaurants. 
Festival goers could work their way around the city's finest cafes and restaurants at their own leisure, trading in Taste Trail tokens for sample dishes. Below you can see the Taste Trail leaflet and tokens I designed, as well as a tasty dish from the menu.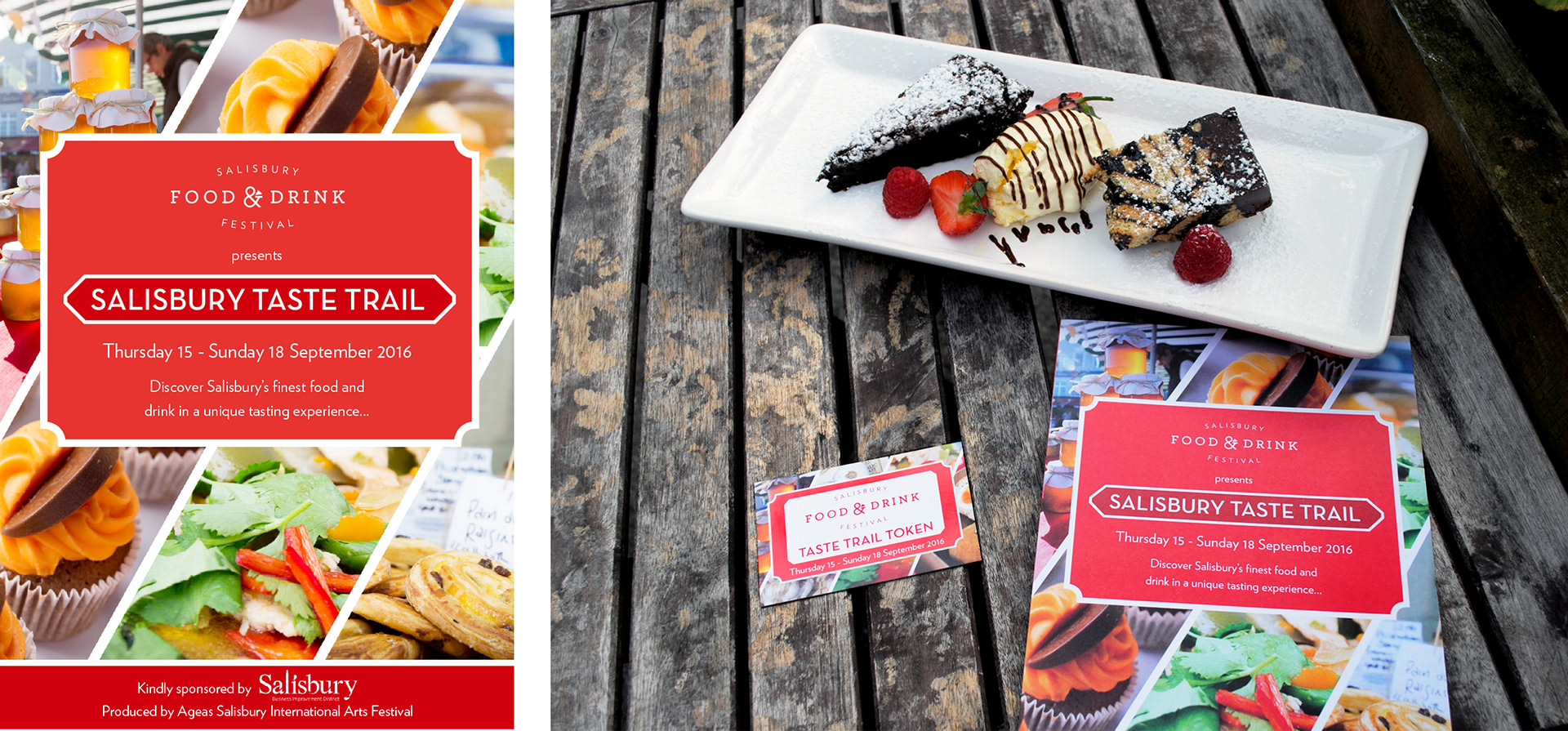 The fist year of Salisbury Taste Trail proved a complete success. Over 400 tokens were exchanged over the three days and we received some delightful feedback from cafés, restaurants and ticket buyers alike:
"We all have our favourite coffee shop or pub, but this is a nice way to get people to try out different food in different places. There are lots of lovely things to try and people can make a day or weekend of it."
Salisbury Journal
"I tried Culture Coffee's trio of cakes as part of the Taste Trail. The ginger cake was absolutely delicious and the garden was a little paradise."

  
Festival goer
"It could be Pat's best day at work ever – doing the Salisbury Taste Trail."  
Spire FM
"We are big fans of the Taste Trail and hope that it is even bigger next year … and we'll be there with brass bells on!"  
The Old Ale and Coffee House
The Salisbury Taste Trail is a refreshing way of discovering some of city's hidden gems."
Culture Coffee